Client: Origami Vinyl
Artist: HOTT MT Feat. Wayne Coyne
Album: Never Hate Again
Packaging: 7-inch Record Jacket on reverse stock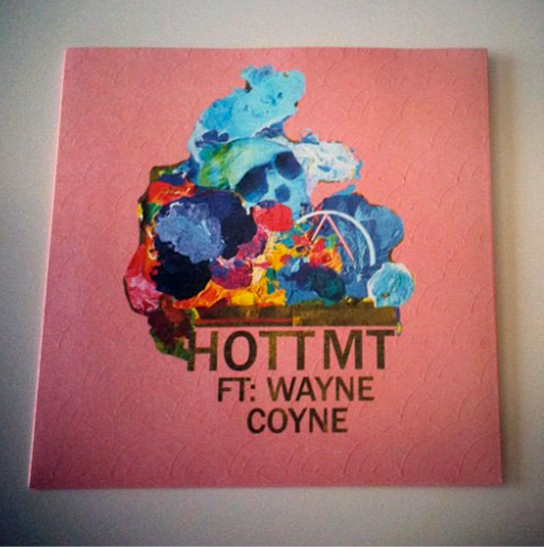 In addition to being one of the most well-curated record shops around, Origami Vinyl is equally known for their incredible record label. For the past few years, we've been working with Origami on vinyl record jackets for artists like Summer Darling, NO and the forthcoming 7-inch from HOTT MT featuring the venerable Wayne Coyne! Origami Owner Neil Schield took a moment to chat with us about the upcoming release and its packaging.
DoradoPkg: Hey Neil, great to be working with you again! Tell us a little bit about this 7-inch release. How did it all come about?
Neil Schield: I met the band during the NO residency at The Echo back in March. They opened up one of the nights and I was blown away by their energy and presence. Later on that evening Bradley from NO introduced us and we started talking. They told me about this crazy trip they took to Oklahoma to see if they could get Wayne Coyne of the Flaming Lips to do something with them. They ended up writing this song together and doing a video for it. They were looking for a label to put it out and they had liked what we had done with NO. I jumped all over it and hit up my friend Scott who manages Wayne and the Lips to make sure they were ok with it. Once I got the approval, it was on!
DPKG: Who designed the cover art?
NS: HOTT MT's singer, Ashi Dala (Ashleigh Allard)
DPKG: Do you know what Ashi's inspiration was with this design? It seems very textured.
NS: Most of the visual elements of the album design were taken directly from HOTT MT's experiences in OKC, just like the songs were. The pink of the background is drawn from the color of the floor in The Flaming Lips' studio where they recorded. The foreground is a collage of found materials from OKC, LA, and China that reflect the organic and intuitive (albiet strange) nature of their creative process.
DPKG: Very cool! And finally, what was it like working with DoradoPkg this time around?
NS: DoradoPkg is the best. Super easy to work with and quick turnaround. I wouldn't use anyone else.
The HOTT MT 7-inch will be out Tuesday July 31st on PINK vinyl and limited to 500 copies. Pre-order your copy from Origami now by clicking HERE.
Find Origami Vinyl online at www.origamiorigami.com. Find HOTT MT on Facebook at www.facebook.com/HOTTMT