Art Director: Geoff Ganz
Project: "If These Walls Could Rock"
Packaging: 190-page, Limited Edition, Photographic Anthology
"If God had invented a hotel for rock bands, it probably would look like the Sunset Marquis," said Rolling Stone's Dave Marsh. In celebration of the legendary hotel's 50th anniversary, owner Mark Rosenthal, along with author Craig Williams, penned a tribute to the landmark, accompanied by photos from some of rock's most sought-after photographers.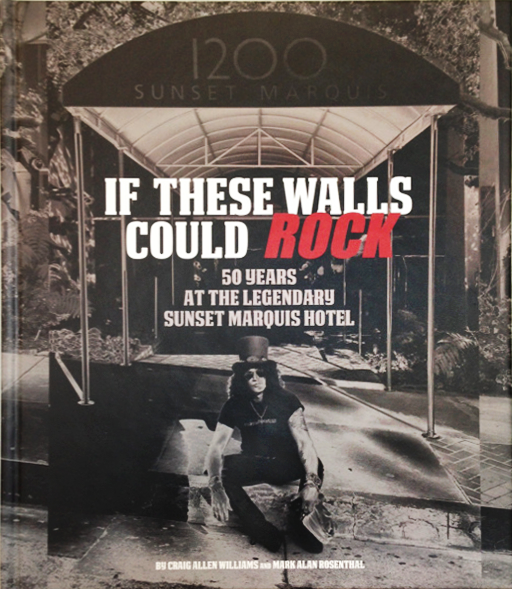 DoradoPkg teamed up with GRAMMY-award winning Art Director Geoff Ganz on the printing and production of this 190-page, limited edition hardcover book. We – the marketing team at DoradoPkg – sat down with project coordinator Gary Gonzales and owner Jennifer Freund to talk about the process.
How did you initially connect with Sunset Marquis about this project?
Gary Gonzales: Rich Horowitz, founder of the Morrison Hotel Gallery – which moved into the Sunset Marquis in 2012 – was talking to Sunset Marquis owner Mark Rosenthal. Mark mentioned he wanted to do a book to commemorate the hotel's upcoming 50th anniversary. We've worked with Rich in the past, so DoradoPkg was the obvious choice and the rest, as they say, is history.
What was the production process like?
Jennifer Freund: The files originally came to us as 4 Color Process but in order to gain the depth and the "color pop" that Sunset Marquis warranted, we discussed running additional spot colors. In the end we ran it as a 7 color project, dry trapped in separate press passes and were very pleased with the outcome.
G.G.: Exactly. In order to make the book look its best, we couldn't just run it CMYK. Based on the way the files were built, that would have resulted in a ho-hum book, it wouldn't have had impact.
So we ran CMYK and controlled all of the solid blacks, reds and grays by running them on a separate pass. The richness of those colors helped augment the photos and made them spectacular. It was beyond what he had hoped for. We created a stunning effect by running those colors as solids.
How did DoradoPkg preserve the quality of these original photographs?
J.F.: Part of the charm of this volume is that it combines images from various photographers to tell the hotel's 50 year story. From a production standpoint, that means that all the photos are slightly different.. Ultimately they need to appear as a cohesive body of work. We achieved this by manipulating each pass on press separately to get the elements that were critical to that collection of pages, and to match it up to the rest of the book.
G.G.: Also, we looked through the whole book from the beginning and identified each of the photographers and where their work appeared, so when we got to press we could deviate from the proofs. We made some slight adjustments to help match all of the photos throughout the book.
The cover is really interesting too, in that it's a hard-cover book, but it has an almost plush feel to it. Why is that?
G.G.: When the cover on this job came in, it was the darkest cover I had ever run. For it to weather well over time, we covered it in a protective scratch-proof lamination. It made quite a difference. It feels smooth and really brings out the quality of the printing.
DoradoPkg is known for printing vinyl record jackets, but we've printed quite a few books in the past year. Are there any similarities in the process?
Jennifer Freund: We consider ourselves to be very fortunate to have been presented with some very, very, creative record jackets that clearly aren't just jackets. They are in themselves works of art.. We love to work on these projects because it lets us really show what can be done with this whole medium. We see it as an art form and not just a packaging or printing product, so an anthology about a music icon is a natural evolution in our work with Album Cover Art.
This has materialized in different forms of music packaging. Musicians, especially those looking to reward their fans, are putting together three dimensional products, like box-sets or pop-up and 3-D Jackets. These projects are so diverse – for example The Tedeshi Trucks Band box-set we recently printed is literally a cigar box. For a recent Dylan project, we printed a hard cover book. All kinds of wonderful things are happening. Music packaging has become an art form. It's quite a lot more than ink on paper.
Read more about "If These Walls Could Rock" on The Sunset Marquis website. Click here.